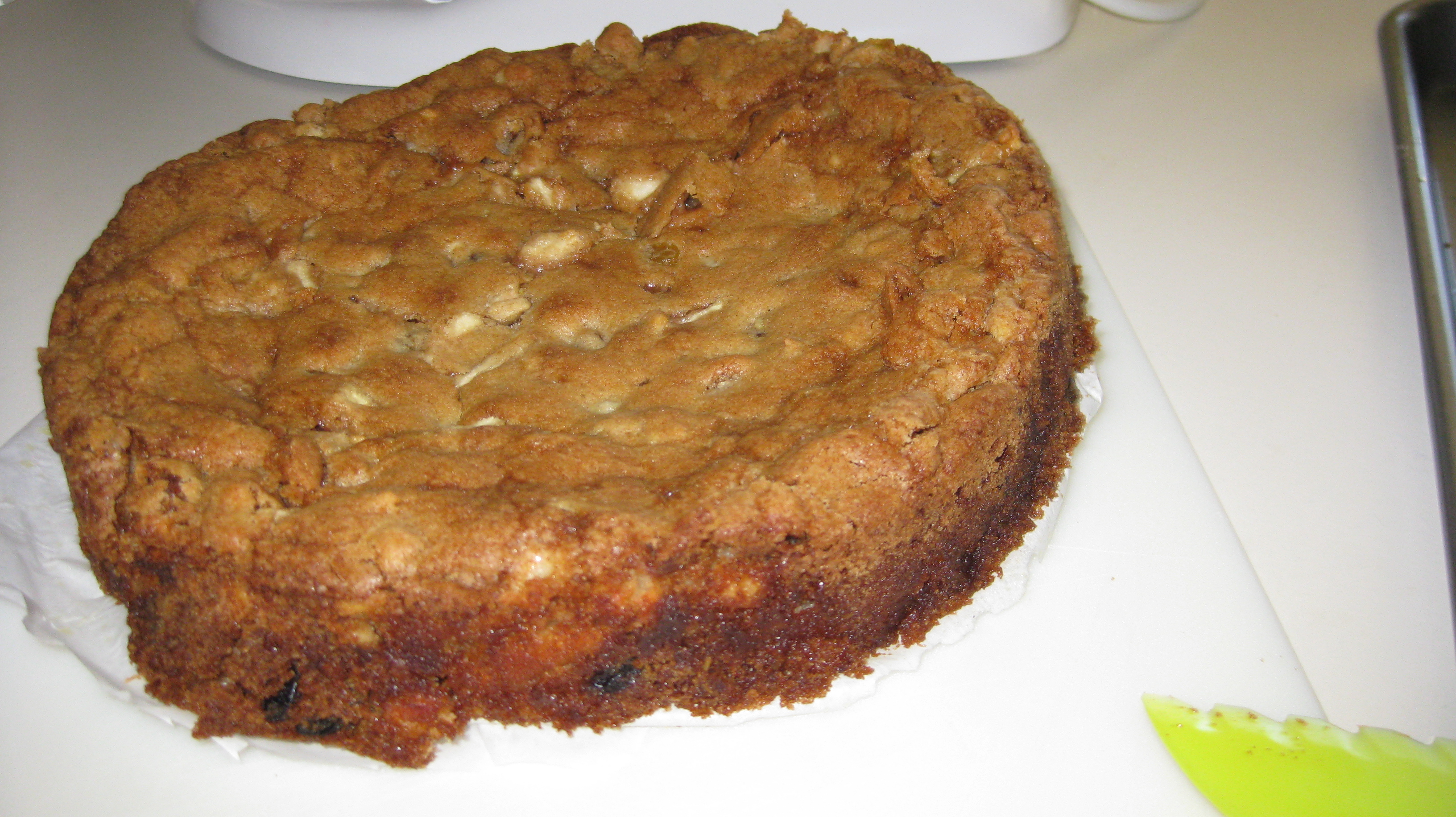 Apple Walnut Cake – Let Me Count The Ways
Ina Garten said you should learn how to make 10 dishes and learn to make them 3 different ways.  You then have a repertoire of 30 dishes.  So what to do with apples? I am always in search of easy but delicious, I think this cake fits all of the criteria so this goes into the repertoire for apples.  This cake is not huge in size, nor multilayered, but it is huge in flavor, easy to make, quick assembly, and a relatively short baking time.  The flavor gets better in time if it last that long.
The recipe calls for and 8×8 square, I made mine in a 9 inch springform pan.  I think it presents well.  The only thing missing was some vanilla ice cream.  That is on my bucket list and you will be reading about that soon, or at least that is my intent.  Well, it is also missing my beautiful cake platter that is now in the trashcan.  (Does anyone know how many splintered pieces a platter can break into?)  I will be picking glass splinters the rest of my days.  But this cake makes you forget all that.
I bumped into this recipe at A Chow Life while trying to find something to do with apples.  Here is the big payoff.
This is a wonderful find.  Easy and delicious.
Apple Walnut Cake
Ingredients
2 cups diced peeled Jonagold apples
1 cup sugar
½ cup (1 stick) unsalted butter, melted, cooled
1 large egg
1¼ cups all purpose flour
1 teaspoon ground cinnamon
1 teaspoon baking soda
½ teaspoon salt
½ cup coarsely chopped walnuts
½ cup dark raisins
Instructions
Preheat oven to 375°F.
Butter and flour 8x8x2-inch baking pan. (I used a springform pan.)
Mix diced apples, sugar, butter and egg in large bowl to blend.
Sift flour, cinnamon, baking soda and salt over.
Add chopped walnuts, raisins; mix thoroughly.
Transfer mixture to prepared pan.
Bake until cake is brown and crusty on top and tester inserted into center comes out clean, about 35 minutes.
Cool cake in pan on rack.
Thank you Ina.  I think I am on the right track.  Thank you A Chow Life for an easy and delicious recipe.
I am taking it to a party at Susan's at Between Naps On The Porch
and also to Michael's at Rattlebridge Farm