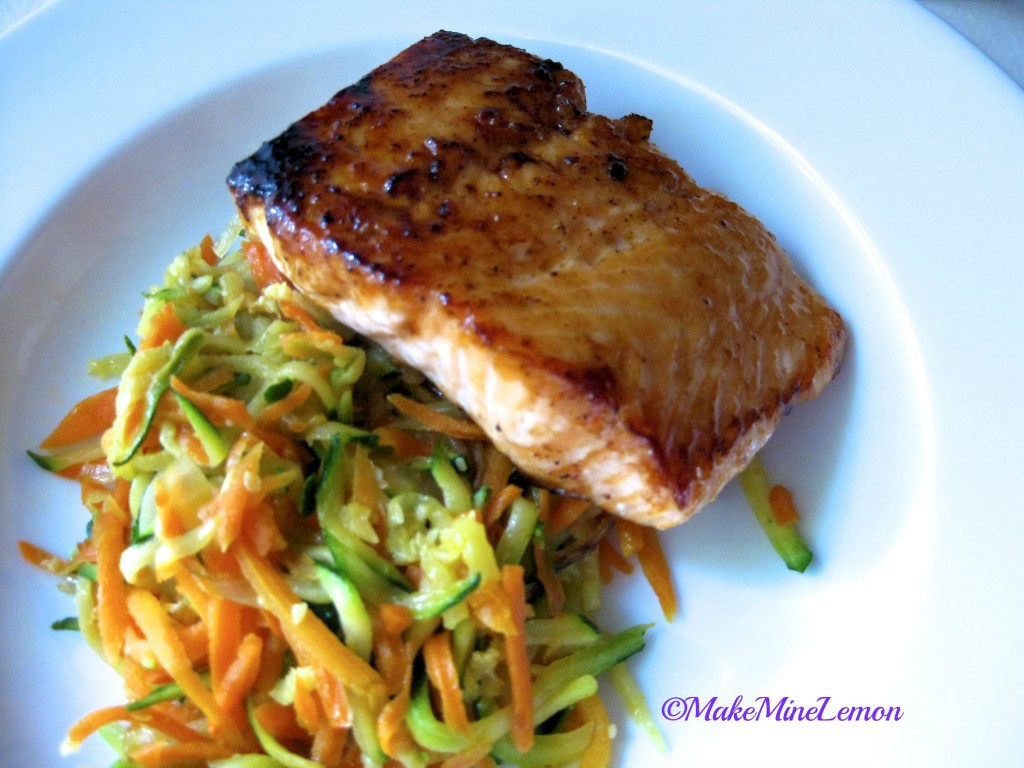 Salmon and Zucchini
I never make zucchini without thinking of my niece, my sister's daughter.  She came to my house checking on her mother for some reason, I can't remember why.  We were getting ready to fix lunch so I threw in another zucchini and re-proportioned the fish and we were good to go.  We sat down to eat.  At first taste she looked at her mother and said, "Why don't I know about this?"  She said it so seriously we started to laugh.  She said, " This is not funny, I am a grown woman, and I did not know zucchini existed."  My sister was dumb struck, then quietly said, "Daddy didn't like zucchini."
When I spoke to my sister later that day, I asked what happened.  She said her daughter went to the market, bought the ingredients and they had lunch again for dinner that night. She has declared zucchini the new potato.  She would be happy if you had them at every meal and put them in anything.  We tease her mercilessly and she laughs and takes it in good stride.  This is a word of warning.  You just never know what your children will hold against you.  In this case it is zucchini deprivation.  Just saying.
I always think of this as sort of a no recipe recipe.  I was at the market.  I was looking for something for lunch.  Salmon was on sale.  After asking the attendant if I could smell the fish, and it passed the smell test, I ordered a half-pound.  I went to the produce aisle and picked up a zucchini.  I knew I had carrots at home and I always have onions.  I came home and washed the vegetables. I trimmed the ends of the zucchini and carrots and ran them through my Cuisinart using the ­­­­­­­­­same attachment that I use to make coleslaw.  I sliced a piece of onion the same size as the other vegetables for even cooking.  Previously I did not add carrot, but lately I like the color, and the more color variety I can eat the better off I think I am.  I heated a non-stick skillet with about teaspoon of olive oil, and a pat of butter; when it was hot, I dropped in the onion.  I gave the onion a little head start and when they started to soften I added the carrots and zucchini.  Gave them some salt and pepper.  I sautéed them until they were soft. Then Julia Child's voice rings in my ears; taste, taste, and taste.  Re-adjust seasoning if needed at the end.
I rinsed the fish, just because, and then with a paper towel I dried the fish so it would sear, not steam.  I wanted to get some color on it.  I trimmed it so it would be the same thickness that I learned from Chef Sally Cameron at A Food Centric Life.  I love to see how she preps food.  I think she is the best at prep of any chef I have seen.  If you prep it properly this leads to even cooking, which leads to the best food presentation.  I sprinkled a tiny amount of brown sugar, some salt, and some chipotle chili powder to a dish.  I coated the presentation side and dropped it into a heated iron skillet for a quick sear.  When I could see the white creep up the salmon, I flipped it and put it in a 400 degree F. oven.  It only took about 3-4 minutes. (I think it only took such a small amount of time because I made it in an iron skillet.) I pulled out the fish and plated with my zucchini.  It was really a fresh, inexpensive, delicious lunch.  The whole thing took under a half hour to make.  The smaller portion I saved; it made my dinner.
A couple of chocolate cookies with some coffee ice cream smooshed in between made a quick dessert.
I wished my niece had been in town today to enjoy lunch with me.  I would never be so mean as to deprive a child grown woman of zucchini.
Thank you Sally Cameron for demonstrating the prepping, and portioning my meals, that not only makes for even cooking, but also makes food look like it came from an upscale restaurant.    Thank you Julia Child just because.  Oh, thank you mil for that ancient iron skillet that I have just become old enough to appreciate.
Serves 2
Salmon and Zucchini
Recipe type:
Fish and Vegetable
Ingredients
1 zucchini
1 carrot
1 half onion
salt & pepper
1 teaspoon olive oil
1 teaspoon of butter
2 – 6 oz salmon
a sprinkle of brown sugar
a sprinkle of chipotle powder
Instructions
Julienne veg
In a non-stick skillet add oil and butter
Add onion – sauté until translucent
Salt as you go
Add carrots and zucchini
Sauté until soft
Adjust seasoning
Wash and dry salmon
Season with salt, pepper, and spice
Place presentation side down in hot skillet
Sear
Turn
Place in hot oven for a few minutes.
Notes
For lunch 6 oz. each is probably appropriate. For dinner you may want 8 oz, but you would be the boss of that decision.
I am taking this to
Susan's at Between Naps On The Porch
Michael's at Rattlebridge Farm
Coastal Charm
Kitchen Meets Girl