While on the road to magazine purge I ran across Southern Vegetarian Burger. I hate calling anything vegetarian because the minute you label it such we have some that will turn up their nose at just the thought of it.  I thought it was hardy enough to please any palate.
I did not make this easy on myself especially trying to plan to photograph it all.  This should have been 3 posts, but I wanted to show it all at once.  It called for canned black-eyed peas.  I did not use canned, but rather cooked my own.
Mix and pat out the burgers and chill in the refrigerator while working on the rest of the meal.  It helps to firm up the burgers.  It is not necessary, but I used my English Muffin rings.
The recipe also called for collard greens and tomatoes to gild the burger.  I took it as a suggestion.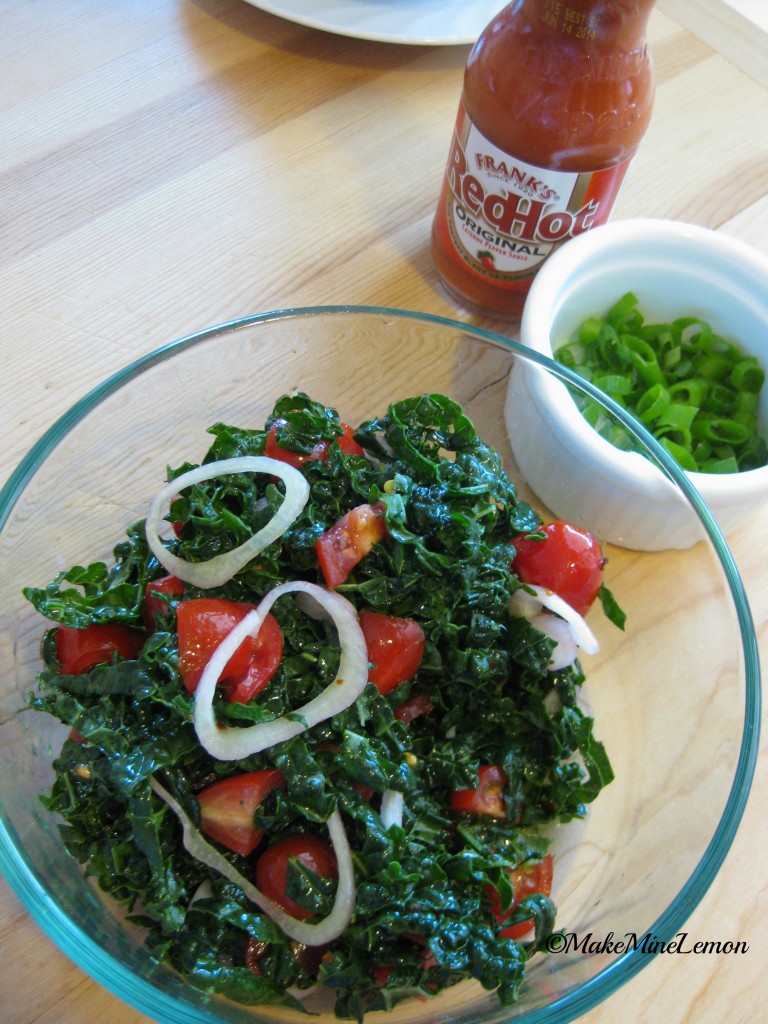 I think collards would be nice if you have time. They do take a long time to cook.  Since I have developed a fondness for chard and kale I decided to go in that direction.  Whichever was the freshest at the market was what I was going with.  I did not cook my kale.  I removed the ribs and did a really really fine chiffonade.  I poured on the dressing and let the vinaigrette break down the kale.
The special sauce is called Comeback Sauce.  I had never heard of Comeback Sauce.  When I googled it apparently it was pretty popular in the South in the 1930's and is making a comeback. I don't know if that is a play on words like "y'all come back now." or they know if you have this you will want an invitation to comeback.  For the Comeback Sauce instead of Tabasco I used Frank's and for the Chili Sauce I used Sriracha.   I am not advocating you make your own mayo, unless you just want to.
I used Vegenaise.  I do not receive any compensation for this.  I only suggest that this is a really excellent substitution for the No-Soy people like me.  I just noticed it is heart healthy also.
The burger is served over a piece of cornbread.  Actually the recipe suggests using a box of Jiffy Mix, but I subbed polenta. I really like polenta.  A while back my boss took the office to a very ritzy restaurant for some celebration.  I ordered an entree that came with polenta.  One of the secretaries setting across from me ordered it also.  She said she had never tasted polenta before.  When our meal arrived and she tasted it she said loudly, "Well this is just mush!"  She was furious with me.  I think she thought polenta/mush was peasant food, and here she was in a posh restaurant and she was eating mush.  Everyone just laughed.  Everyone but me.  I was cringing.  I had not suggested she follow my lead, and I was not sure why she held me responsible.  So here is a warning that this recipe called for cornbread or Jiffy Mix, but I thought it sounded better with polenta – that would be mush with Parmesan.  I thought it was a great alternative; so don't be mad, if you prefer cornbread it is what the recipe called for.    You're the boss.
I have taken license with this recipe before I even gave it a trial run.  I was quiet pleased.    When I make this again I will make the Comeback Sauce and cook my beans the day before.  Cuisine said the sauce holds in the refrigerator for a couple weeks.  I do not think Vegenaise would have that long a shelf-life.
Just as a follow-up, this is pretty good without the cornbread or the polenta, but just in a pool of Comeback Sauce and topped with kale salad.
So thank you Cuisine At Home.  Thank you Bandwith for the Worcestershire Sauce recipe because the sauce ask for just a little of it.  Oh, and Betty, I am so sorry you ordered polenta and you were disappointed, but I love it and I don't think it needs an apology.

Southern Vegetarian Burgers With Comeback Sauce
Author:
©MakeMineLemon adapted from Cuisine At Home
Ingredients
Sauté
¼ cup dice red bell pepper
¼ cup slice scallion (green only)
2 teaspoon minced garlic – I did not use this much – your choice
1 teaspoon minced fresh thyme – I used dry, but use fresh if you have it.
2 tablespoon olive oil
salt & pepper to taste
Mash
1 can of drained black-eyed peas (15 oz. fresh cooked), divided
1 egg white
3 tablespoon cornmeal
1 teaspoon prepared mustard
2-3 dashes of Tabasco sauce – I used Franks
Prepare cornbread or polenta
Comeback Sauce
¼ cup diced onion - I used the white of the scallion.
1 tablespoon garlic – I used less
¼ cup mayonnaise – I use No-Soy Vegenaise
2 tablespoon olive oil
2 tablespoon ketchup
2 tablespoon chili sauce – I used Sriracha
1 tablespoon Worcestershire sauce
1 tablespoon fresh lemon juice
1 teaspoon prepared mustard
Combine in foodprocessor until smooth
Adjust seasoning and add more Tabasco or Franks.
For Greens and Tomatoes
½ cup sliced onions – I used shallots
¼ redpepper flakes
2 teaspoon olive oil
3 cups chiffonade greens – I used kale
½ cup halved grape tomatoes
1 tablespoon cider vinegar
salt and pepper to taste
Instructions
For the burgers:
Sauté bell pepper, scallion greens, garlic and thyme in 1 tablespoon of olive oil about 3 minutes.
Season with salt and pepper.
Mash one cup of beans with egg white until smooth.
Stir in cornmeal, mustard, Tabasco, addition cup of whole peas, and sautéed mixture.
Form patties, and chill at least 10 minutes – up to 30 minutes.
Sauté patties in remaining oil over high heat for 5 minutes each side.
For the Comeback Sauce: combine ingredient and process until smooth.
Adjust seasoning.
Sautéed Greens with Tomatoes:
For collards – cook in vegetable broth until tender.
Add remaining ingredients
If you are using kale – finely chiffonade add vinaigrette. The vinaigrette will break down the kale.
Place burgers on cornbread or polenta.
Nap with Comeback Sauce; top with greens and tomatoes.
Enjoy.
I am taking this to